CORPORATE SUSTAINABILITY
At Österreichische Post, corporate sustainability is very dear to our hearts.
We are convinced that it takes economic, social, and sustainable efforts to remain successful and relevant now and in the future.
This approach is clearly reflected in our revised strategy. The following mission is a key aspect of our integrated corporate and sustainability strategy: Österreichische Post takes customer-oriented and sustainable action and embraces diversity.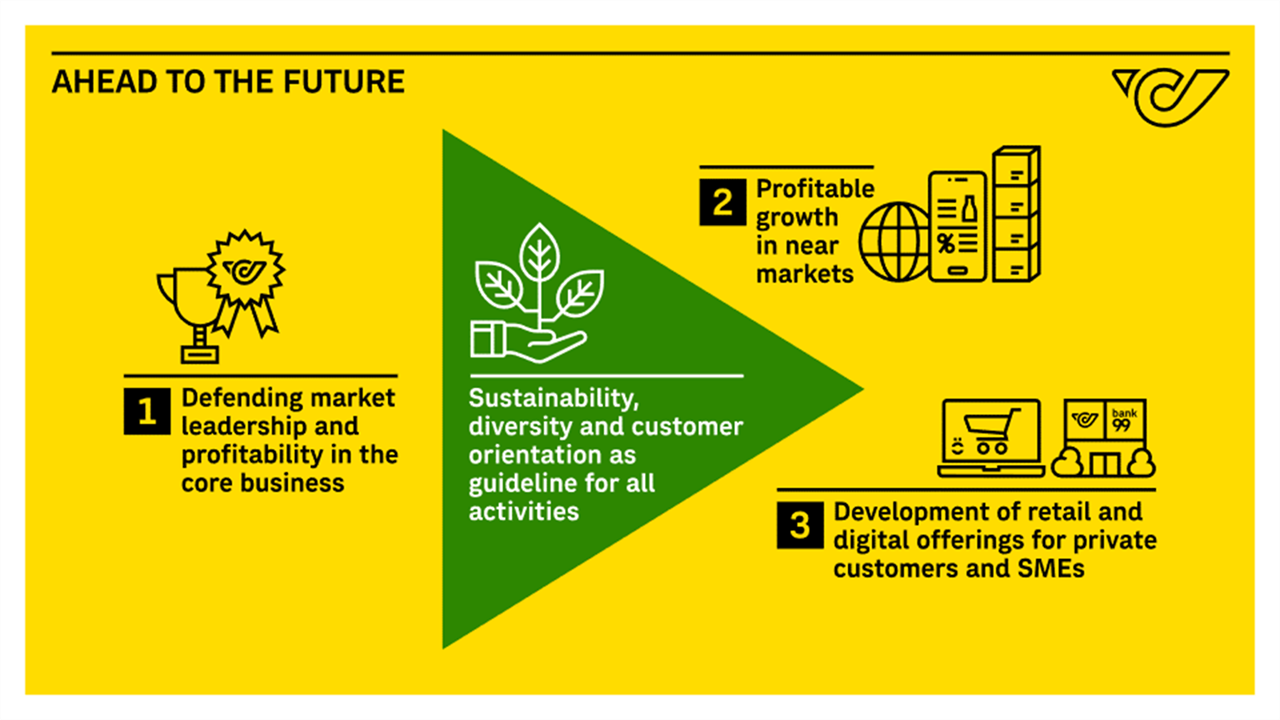 At Österreichische Post, we believe in remaining ambitious and we take our role as a pioneer very seriously. Based on our integrated corporate and sustainability strategy, we have set high goals for ourselves as defined in our 2030 Sustainability Masterplan.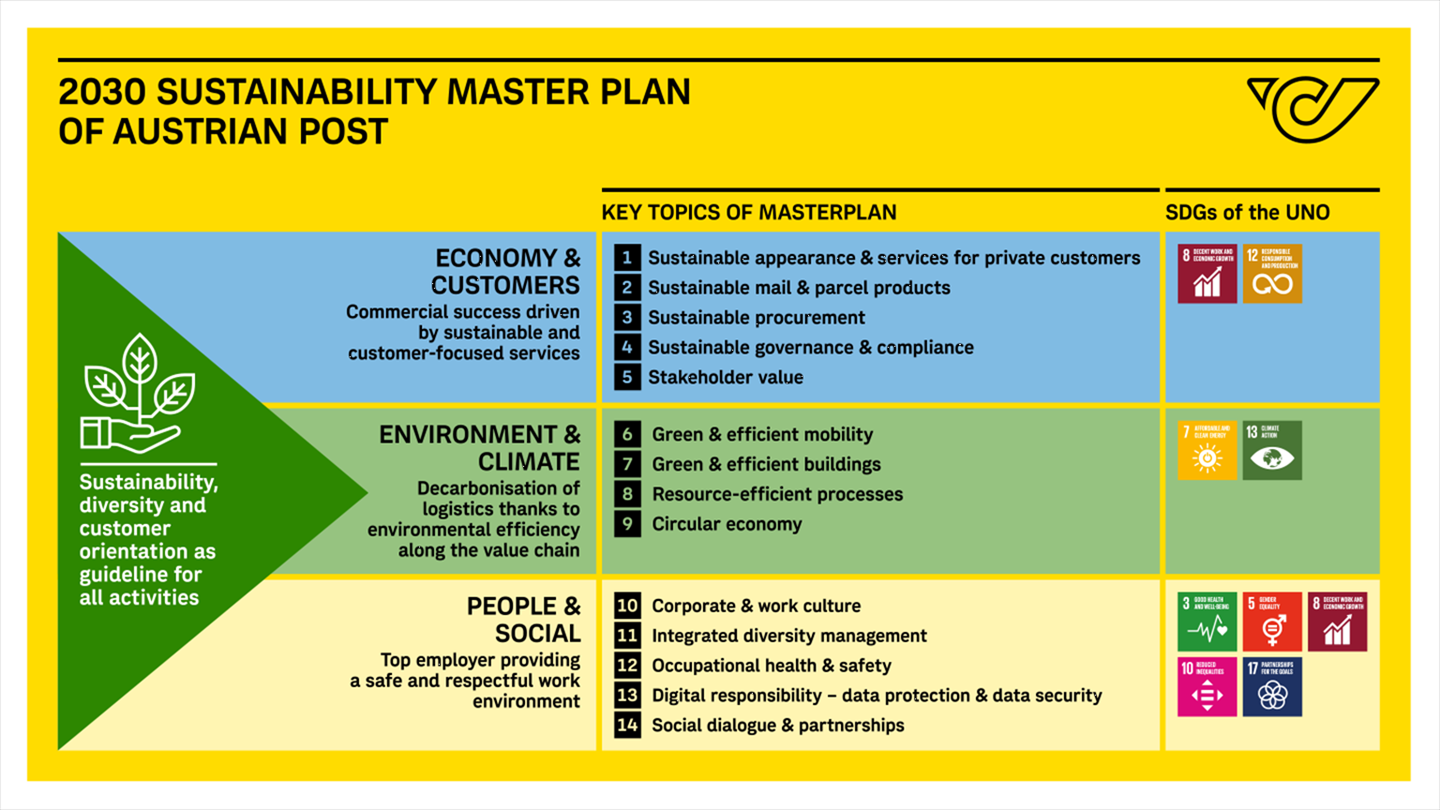 Österreichische Post became a member of the UN Global Compact as early as 2007. The implementation of our goals and activities is guided by this initiative's principles regarding human rights, labour rights, environmental protection and anticorruption. Österreichische Post is also committed to the United Nations' sustainability goals, the so-called Sustainable Development Goals (SDGs) that became effective in 2017. We have integrated these SDGs into our sustainability strategy.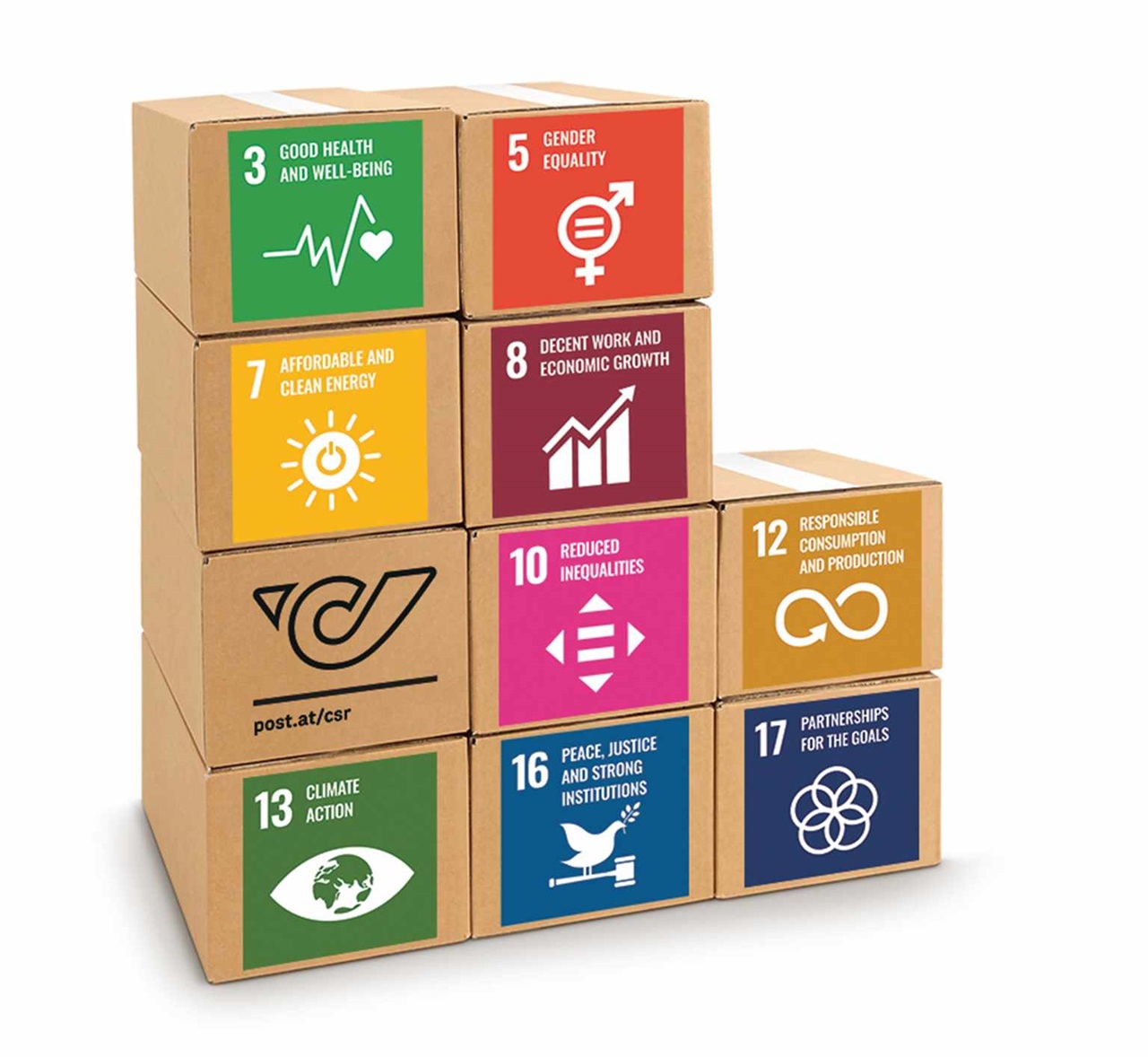 SDG 8 (human dignity, work and economic growth):
As a public company, we focus on stable economic performance.

SDG 3 (health and well-being), SDG 5 (gender equality), SDG 10 (reduced inequalities), SDG 16 (Peace, justice and strong institutions), SDG 17 (partnerships for the goals):
As a service provider, Österreichische Post believes in a social approach to its business activities. Health and training programmes, the promotion of gender equality as well as antidiscrimination and diversity are an inherent part of our corporate culture.

SDG 7 (affordable and clean energy), 12 (responsible consumption and production), SDG 13 (climate action):
As a logistics service provider, an eco-friendly approach to business activities is becoming increasingly important at Österreichische Post. Our focus lies on climate protection that we actively support by promoting sustainable infrastructure, the use of renewable and innovative technology and the promotion of environmentally friendly consumption and production patterns.
ECONOMY & CLIENTS
Digitalisation, competitive pressure and global trade all shape the market. These trends are big challenges for Österreichicshe Post and for the logistics industry as a whole. At Österreichische Post, we see these developments as an opportunity to improve and evolve.
We are aware of the wishes and expectations of our clients. After all, without this knowledge, no company would be able to offer innovative and customer-oriented services and ultimately be successful in the long run.
Against this background, we focus on flexible delivery concepts that revolve around increased convenience for our clients, service quality, and online solutions. Such services include the Österreichische post app that customers use to redirect parcels and pick them up at a postal branch or receive e-letters, among many other things.
Österreichische Post is a member of the following associations and organisations:
Aktienforum
Arbeitsgemeinschaft für Datenverarbeitung (ADV)
Austrian Corporate Treasury Association
Bundesvereinigung Logistik Österreich (BVL)
Cercle Investor Relations Austria (C.I.R.A.)
Dialog Marketing Verband Österreich
E-Commerce Europe
E Fuel Alliance
EURODIS
EV100 Climate Group
fit4Internet
Handelsverband
Industriellenvereinigung
International Post Corporation (IPC)
Internetoffensive (IOÖ)
Leitbetriebe Austria
Logistik Initiative Austria
myAbility Wirtschaftsforum
PostEurope
Public Relations Verband Austria
respACT
Transparency International
Universal Postal Union (Weltpostverein/UPU)
Verein Netzwerk Logistik (VNL)
Vienna Economic Forum
Wirtschaftskammer Wien
Zentralverband Spedition & Logistik
Zukunftsoffensive Verkehr & Infrastruktur (ZOVI)