EinfachWerben Print: Design & send your own advertising
Use our EinfachWerben Print online service to design your own advertising items in just a few easy steps and reach your customers everywhere in Austria. From design to orders and shipping, everything is done online and from a single source. We will take care of producing your items and getting them ready for shipping. You will benefit from high-quality and sustainably produced advertising items that are guaranteed to reach your target audience. Send unaddressed advertising items such as flyers, leaflets, or brochures in your desired distribution area or addressed items such as cards or Kuvert mailings to existing addresses verified by us.
25% discount on printing costs with EinfachWerben Print
Coupon Code: EWP2023

Voucher code for unaddressed advertising mailings (flyers, folders), to be redeemed directly in the EinfachWerben Print tool on the "Checkout" page. Simply click on "Add voucher" in the gray field on the right, enter the voucher code and save 25% on printing costs!

The voucher code is valid from 15.09.2023 to 30.11.2023. Austrian Post reserves the right to change the promotion at any time or end it early. The promotion cannot be combined with other promotions, discounts, etc. Promotion can only be redeemed for unaddressed items (flyers, folders).
Advantages of EinfachWerben Print

Calculate costs using our online price calculator
Order, design and manage completely online
Service available around the clock
Shipment only to valid Austrian addresses or in your selected distribution area
High-quality printing by Austrian printers
Preparation for dispatch and timely distribution by the postal service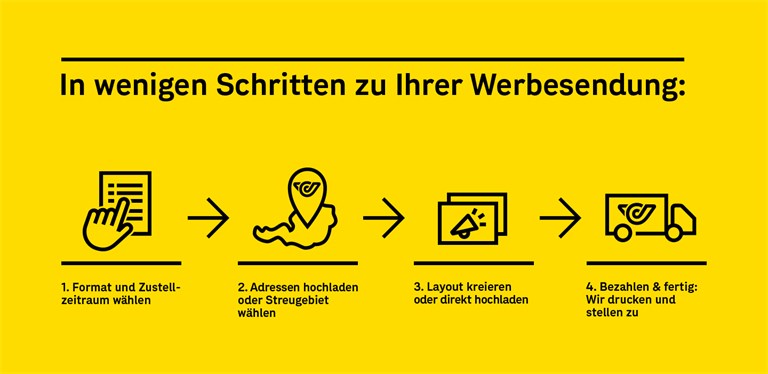 Leaflets: unaddressed advertising
Use flyers to reach potential clients in selected distribution areas in a quick and reliable process. You decide which format is the best fit for your advertising. You can choose between flyers, leaflets as well as brochures and benefit from the following advantages:
High offer utilization by customers
Leaflets are considered to be particularly informative and rank among the most purchase-inducing forms of advertising
High multiplier effect, as flyers are readily shared with other people

Create campaign!
Info.Mail Advertising: addressed advertising
Use Info.Mail Advertising to share your advertising message with your clients via personally addressed cards or Kuvert mailings and benefit from the following advantages:
High level of attention among clients thanks to personal addressing
Creates emotions and motivates to buy
Allows for precise planning
Measurable performance

Create campaign!
Using EinfachWerben Print is easy
To use EinfachWerben Print, just log in with your online account in our sing in area. If you do not yet have an account as a business client with Austrian Post, please register at post.at/registrierung first.
Easy steps to designing & sending advertising items:
Choose campaign format: unaddressed leaflets or addressed direct mailing items
Select first day of delivery: this will determine the preparation and delivery window
Upload desired mailing addresses or select distribution areas: upload addresses according to the templates (for direct mailings) or select postcode or radius on the map (for flyers)
Define print data: design your advertising item in the online editor or upload ready-to- print document
Place order
Our video tutorial will take you through the EinfachWerben Print online service step by step, providing helpful hints and tips for designing flyers and direct mailings. You can also get inspiration from our templates for job ads, events, and openings.
Calculate costs with our online rate calculator
Use our indicative rate calculator to determine in advance how much an advertising campaign with EinfachWerben Print will cost. Just select the desired format and the planned amount of items. It takes just one click to get the total price for printing and shipping (excl. VAT). This tool also allows you to quickly compare different formats. Our rate calculator is available in the sidebar on the right-hand side.
What our clients say
Three clients explain how they use EinfachWerben to share information about offers or finding new clients and how this tool makes their everyday work easier.
Contact us
Do you have questions about this service? Just talk to
our customer advisor
or contact us anytime via the
contact form
.
Design leaflets and direct mailing items
---