Unique motifs from Austria and around the world. Find them on our new stamps and postcards.
24.05.2023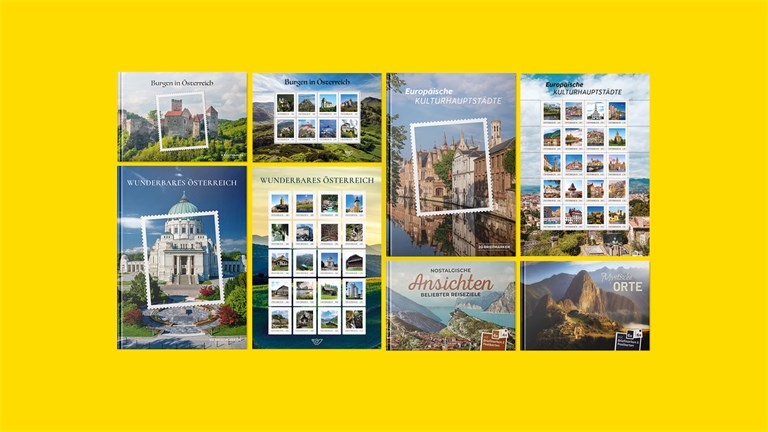 Travels are a great source of anecdotes, but also of impressions, both in our minds and in our cameras. And yet, visiting all the places worth seeing in Austria is not an easy thing to do.
Which is why Austrian Post is now issuing new stamps and postcards with unique motifs from home, Europe, and other continents. Get these new products now and send very special greetings with a touch of world history.
The postcard booklet "UNESCO World Heritage in Austria", for instance, offers great and universally loved sights from our home country on six stamps and postcards.
The postcard booklet "Nostalgic views of popular travel destinations", on the other hand, presents particularly appealing cultural sites as they looked and were depicted "back in the day", all on four stamps and postcards.
The self-adhesive stamp edition 20 "Wonderful Austria", in turn, includes 20 beautiful motifs from our homeland that will visually enhance your mail. Expect everything from cultural achievements to beautiful landscapes.
Also, don't miss the unique stamps in our Edition 8, "Castles in Austria", and the stamps in our Edition 20, "European capitals of culture".
These sights will delight anyone who receives your mail.
Postcard booklet "UNESCO World Heritage in Austria": Order now
Postcard booklet "Nostalgic views": Order now

Stamp Edition 20, self-adhesive "Wonderful Austria": Order now

Stamps Edition 20, "European capitals of culture": Order now

Stamp Edition 8, "Castles in Austria": Order now