Christian Eisenberger – Untitled (head), 2009
17.03.2022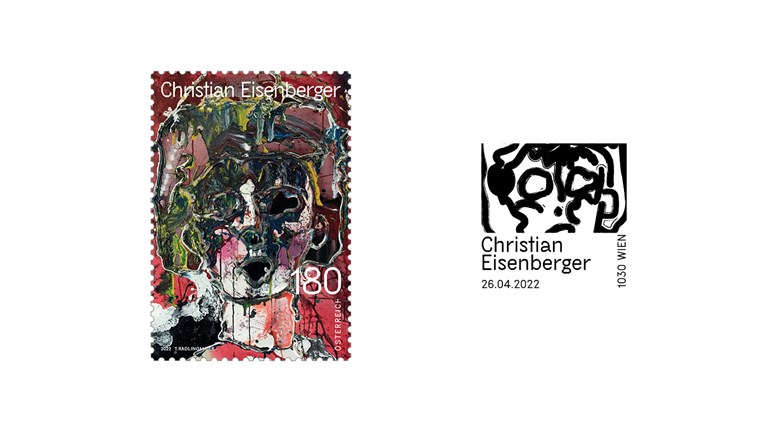 Excessive and playful creativity are the distinguishing marks of the works of art created by the Styrian-born artist Christian Eisenberger. This year's motif in our "Young art in Austria" series features one of his works.

Born in Semriach near Graz in 1978, Christian Eisenberger studied at the University of Applied Arts in Vienna. He first attracted public attention with numbered cardboard cutouts that he placed in public space. To this day, he uses a wide variety of materials such as cardboard, hair, aluminum, adhesive tape, or ice. In his work, he uses a multimedia and interdisciplinary approach, pairing painting with photography, sculptures, and installations.

Heads are a recurring theme in Christian Eisenberger's work. The depicted person refuses to bear any resemblance to a living person and is nothing but themselves, independently of the respective zeitgeist. This commemorative stamp features a portrait made with bathroom silicone and acrylic paint on canvas.
Value: 1.80 Euro
First day of issue: 26.04.2022
Stamp size: 29.00 x 42.00 mm
Graphic design: Theresa Radlingmaier
Printing: Joh. Enschedé Stamps B. V.
offset printing
Quantity: 140,000 stamps on sheets of 50 stamps