"Ruster Ausbruch" DAC: Golden yellow sweet wine
17.03.2022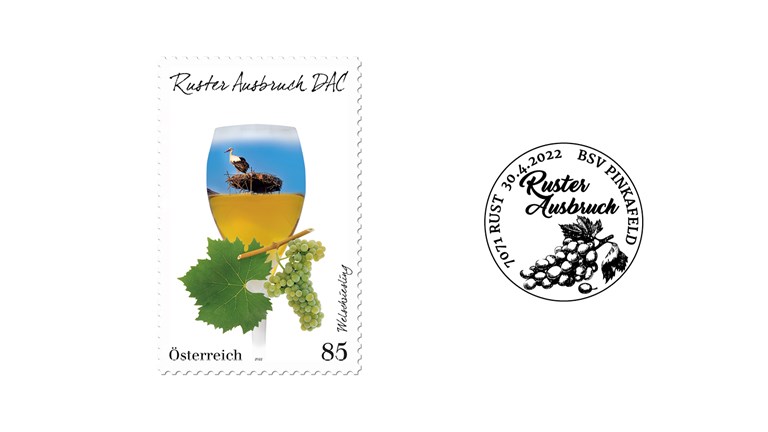 The distinguishing features of the city of Rust on the shores of Lake Neusiedl are the storks that nest on chimneys and the city's wine, especially the delicately sweet "Ruster Ausbruch".

It is a golden yellow sweet wine made from grapes affected by botrytis cinerea, an edible mold. The berries are dried, which increases the sugar content and enhances the aroma. The "Ruster Ausbruch DAC" must be made from hand-picked white quality grapes grown in the area of Rust and have a minimum must weight of 30 °KMW.

The city centre of Rust with its stately homes dating from the 16th to 19th centuries is a protected area. In addition to the historic buildings, large stork nests on the roofs catch the eye, which is why Rust is called the "city of storks". Rust is also part of the UNESCO World Heritage site Fertő/Lake Neusiedl, recognised in 2001.
Value: 0.85 Euro
First day of issue: 30.04.2022
Stamp size: 31.80 x 50.00 mm
Graphic design: David Gruber
Printing: Joh. Enschedé Stamps B. V.
offset printing
Quantity: 360,000 stamps on mini sheets of 10 stamps