Standing together for peace: Help for the people of Ukraine
16.03.2022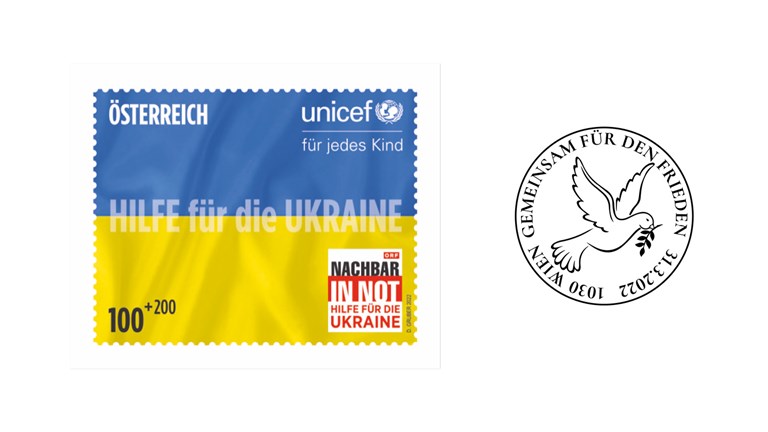 What happened in late February 2022 had become almost unthinkable in Europe: a war broke out on European soil and ultimately not far from Austria.

Its consequences are affecting millions of people, both directly and indirectly. Directly affected persons oftentimes have no protection or help and must therefore rely on human solidarity and humanitarian assistance from those who can provide it swiftly and without red tape.

The semi-postal stamp issued by Österreichische Post is an act of solidarity. It is meant to provide affected persons with what they need; the range and extent of help needed varies greatly. Therefore, half of the 2-euro premium of this stamp, which has a 1-euro face value, will go to two experienced relief organisations, respectively: the Austrian organisation "Nachbar in Not" and the international organisation UNICEF. Both are partners for the issue of this commemorative stamp.

This is not the first time Österreichische Post provides support during humanitarian disasters and for social projects with semi-postal stamps. Two examples are the 2016 UNICEF stamp "A fair chance for every child" and the "70 years SOS Children's Villages" stamp issued in 2019 whose premium benefitted SOS Children's Villages. With our semi-postal stamp "Together for peace", you can help to provide effective help. This stamp is available from our collector service centre, at postal branches, at philately points of sale and in our online shop.
Value: 1.00 Euro + 2.00 Euro surcharge
First day of issue: 31.03.2022
Stamp size: 40.00 x 32.50 mm
Graphic design: David Gruber
Printing: Joh. Enschedé Stamps B. V.
offset printing
Quantity: 200,000 stamps on sheets of 50 stamps