KTM X-BOW GTX 2020
16.01.2023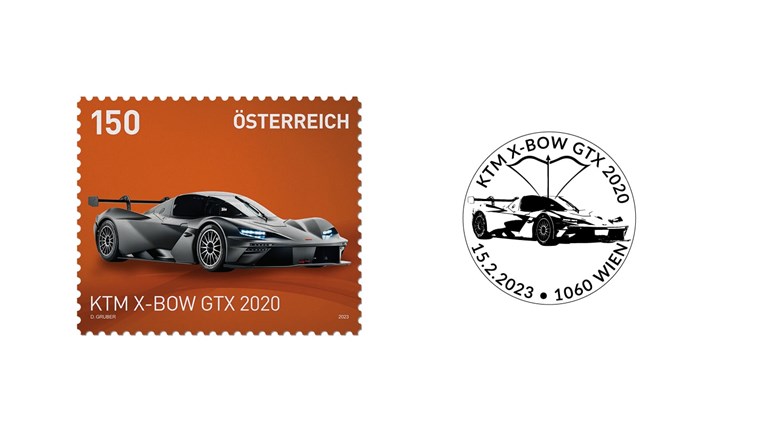 In 2008, the traditional Austrian company KTM explored new territory by launching the X-BOW, which is not a motorcycle, but a high-performance sports car with an unmistakable design.

The design of the X-BOW, pronounced crossbow (as in the weapon), is in line with KTM's motto "Ready to Race", and was created by the Austrian design agency Kiska. The KTM X-BOW GTX 2020 model has been built since 2020 as the ultimate super sports race car, while the road-legal version is called the X-BOW GT-XR.

All X-BOW models have been produced in a purpose-built vehicle manufactory in Graz since 2008, and around 100 units are manufactured each year. In Thalheim near Wels, racing and customer vehicles are serviced at the Racing Center. The 2020 X-BOW GTX, designed for racing, is equipped with a five-cylinder engine from Audi with a displacement of 2.5 liters and 530 hp and is used in various racing classes and series.
Value: 1.50 Euro
First day of issue: 15.02.2023
Stamp size: 42.00 x 34.80 mm
Graphic design: David Gruber
Printing: Joh. Enschedé Stamps B.V.
offset printing
Quantity: 220,000 stamps on sheets of 50 stamps