Titan 350 Sport: An innovation on two wheels
18.01.2022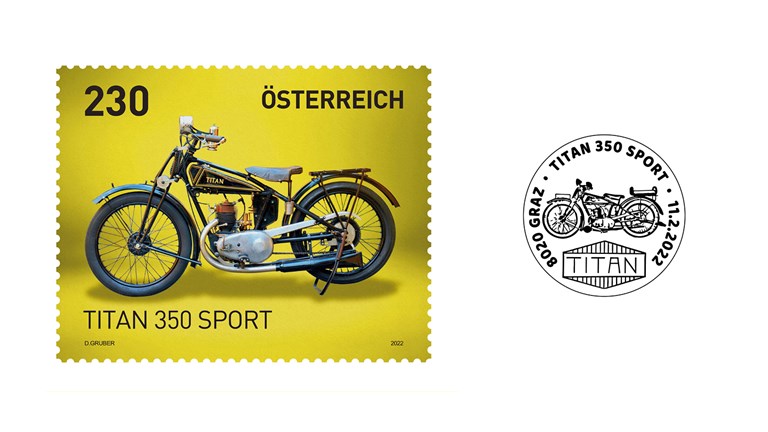 Under the brand name Titan, the Grazer Motorenwerke AG manufactured innovative bicycles and motorbikes in Puntigam near Graz from 1926 to 1932.

The engines for Titan motorbikes were designed by Karl Schüber. The one-cylinder two-stroke engine with 350 cm³ and membrane inlet control was a true innovation. It was first equipped with two and later with four membrane sheets. A prototype of the Titan was presented at the 1926 Vienna Autumn Fair. After a few adaptations, the motorcycle went into serial production in 1927.

This commemorative stamp features a Titan 350 Sport built in 1927. This road racer had a Siemens magnet in front of the engine, an exposed flywheel, shortened silencers, and a four-sheet membrane. It reached a total of 8 PS. Titan motorbikes had a better performance than the competitor's models by Puch, but they were also more expensive, which is why sales were lower. In 1932, the Grazer Motorenwerke had to close for good.
Value: 2.30 Euro
First day of issue: 11.02.2022
Stamp size: 42.00 x 34.80 mm
Graphic design: David Gruber
Printing: Joh. Enschedé Stamps B. V.
offset printing
Quantity: 280,000 stamps on sheets of 50 stamps