100th anniversary of RIESS enamelware: High-quality, sustainable kitchenware
21.12.2021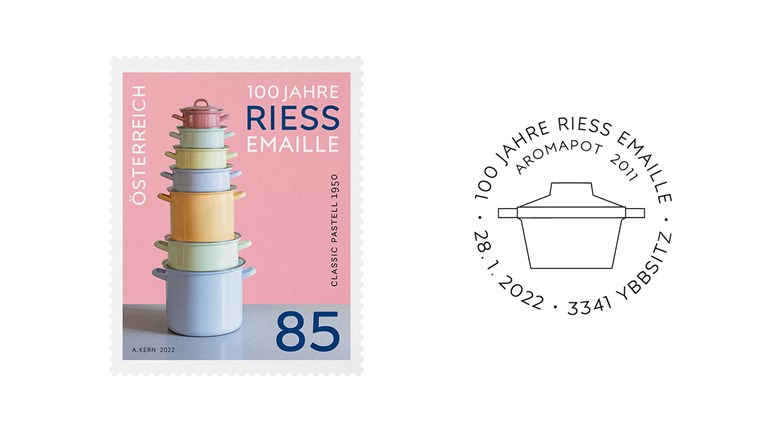 This year's commemorative stamp in the "Traditional brands" series is all about the Austrian company RIESS that has been producing top-quality enamelware for 100 years.

The stamp shows a selection of colourful pots from the "Pastel" series that has been popular since the 1950s. RIESS uses natural raw materials to produce handmade pots, pans, and other kitchenware that are long-lived and recyclable.
The typical porcelain enamel results from iron that has been fused with siliceous glass at a temperature of 850°C, which creates a hard, non-porous and cut-resistance surface that is easy to clean while being odourless.

The roots of this family business go back to the year 1550 when a pan forge was established in Ybbsitz in the Mostviertel region of Lower Austria. This is where the production of sustainable porcelain enamel kitchenware began in 1922. Since 1926, the company has been using clean energy from company-owned hydraulic power plants at the Ybbs river. RIESS also produces street signs and advertising signs as well as industrial components made of porcelain.
Value: 0.85 Euro
First day of issue: 28.01.2022
Stamp size: 32.50 x 40.00 mm
Graphic design: Anita Kern
Printing: Joh. Enschedé Stamps B. V.
offset printing
Quantity: 280,000 stamps on sheets of 50 stamps