Violoncello
15.12.2022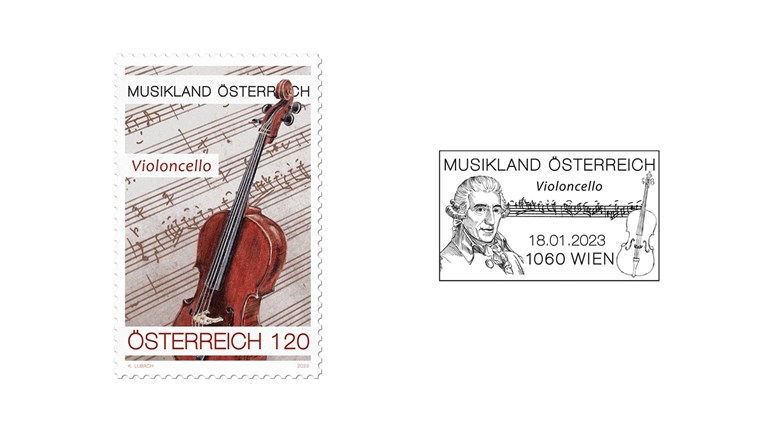 While the cello is related to the violin and viola, it is significantly larger. It is played sitting down and held upright between the musician's legs.

To play the cello, it is placed on a "spike" and the four strings are plucked or played with a bow. Its warm, dark sound makes the cello a versatile instrument, not only for orchestras but also as a solo instrument.

The stamp and the small sheet from the series "Austria, land of music" feature one of the most important concert pieces for cello, the Cello Concerto No. 2 in D major (Hob. VIIb:2) by Joseph Haydn. He composed it in 1783 for Anton Kraft, who was a cellist in the court orchestra of Prince Esterházy.

The technically demanding cello concerto has three movements: Allegro moderato, Adagio, and Rondo: Allegro. It is accompanied by two oboes, two horns, and strings.
Value: 1.20 Euro
First day of issue: 18.01.2023
Stamp size: 31.80 x 50.00 mm
Graphic design: Kirsten Lubach
Printing: Joh. Enschedé Stamps B.V.
offset printing
Quantity: 360,000 stamps on miniature sheets of 10 stamps