100th anniversary of the birth of Georg Kreisler
13.06.2022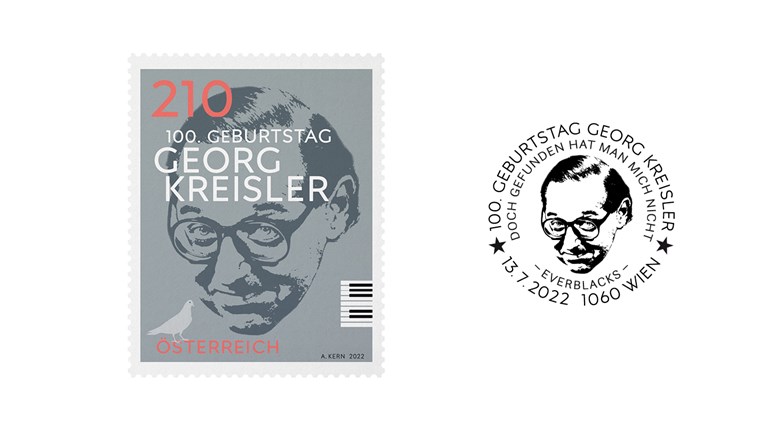 To this day, he is known as the master of black humour. On the occasion of the 100th anniversary of his birth, Österreichische Post is honouring Georg Kreisler with a commemorative stamp.

Born in Vienna in 1922, Georg Kreisler, like many others, had to emigrate in 1938. He lived in the USA, became an American citizen, and served in the US Army as an interpreter in Europe. He also entertained soldiers with programmes written by himself. He continued to appear on stage with his own chansons even after the war. He returned to Europe in 1956 to live in Austria, Germany, and Switzerland. He died in Salzburg in 2011.

Georg Kreisler accompanied his own songs on the piano. His lyrics were profound bordering on the grotesque and his melodies and performance were masterful. He wrote unforgettable songs such as "Vienna without the Viennese" or "Poisoning pigeons." A small pigeon on the commemorative stamp pays tribute to that song.
Value: 2.10 Euro
First day of issue: 13.07.2022
Stamp size: 40.00 x 32.50 mm
Graphic design: Anita Kern
Printing: Joh. Enschedé Stamps B. V
offset printing
Quantity: 150,000 stamps on sheets of 50 stamps