150th anniversary of the Austro-Hungarian North Pole expedition 1872-1874
13.06.2022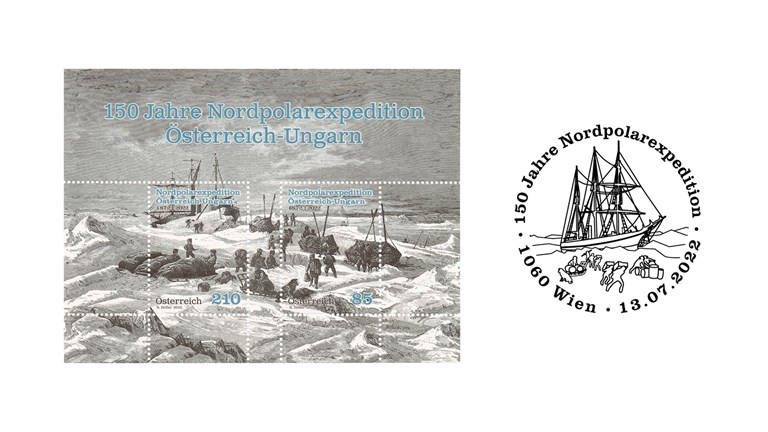 This adventurous expedition took place under the leadership of Julius Payer and Carl Weyprecht, who were both experienced Arctic explorers.

In the summer of 1872, they set out on their expedition on Admiral Tegetthoff, a steam vessel, with a crew of 24, with the goal of finding new navigable paths and exploring the Arctic Ocean. However, the ship was soon trapped in the ice and drifted further and further away. This was when the crew discovered a group of islands that they named Franz Josef Land. In 1874, they abandoned the ice-locked ship, repurposed their boats as sledges and marched across the ice on foot. After almost three months of hardship, they reached the open sea and, having turned their sledges back into boats, started rowing. They were ultimately found by fishermen.

"Never go back," the painting made by Julius Payer himself, shows the dramatic scene when Carl Weyprecht once again persuaded the exhausted men to continue marching south, thus saving their lives.
Value: 2.95 Euro
First day of issue: 13.07.2022
Stamp size: je 30.00 x 40.50 mm
Graphic design: Robert Höfler
Printing: Joh. Enschedé Stamps B. V.
offset printing
Quantity: 130,000 stamps on sheets of 2 stamps