Lois Weinberger – Onopordon acanthium (common thistle), 1995
13.06.2022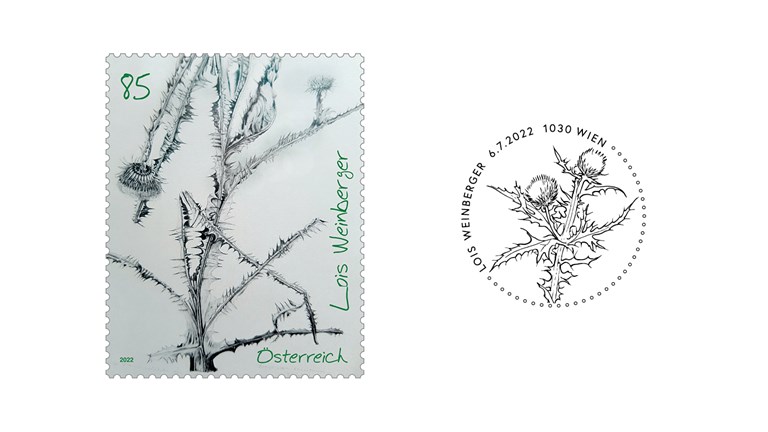 Through his work, this artist shaped the debate about art and nature from the early 1990s to the present.

Lois Weinberger was born in Tyrol in 1947. In the 1970, he started creating ethnopoetic works, using an artistic approach to exploring nature and civilization. He worked on a poetic-political network that focused on marginal zones and questioned hierarchies. Among many other worldwide exhibitions, he also participated in the Venice Biennale and twice in documenta. Lois Weinberger passed away in Vienna in 2020.

The stamp motif shows a common thistle as a pencil drawing on paper. The bent plant suggests that nature has been damaged. Throughout his lifetime, the artist studied humankind's interaction with nature and the phenomenon that humans can look at nature while being part of it.
Value: 0.85 Euro
First day of issue: 06.07.2022
Stamp size: 33.35 x 42.00 mm
Graphic design: Regina Simon
Printing: Joh. Enschedé Stamps B. V.
offset printing
Quantity: 280,000 stamps on sheets of 50 stamps