Giuseppe Arcimboldo – Water, 1566
11.05.2022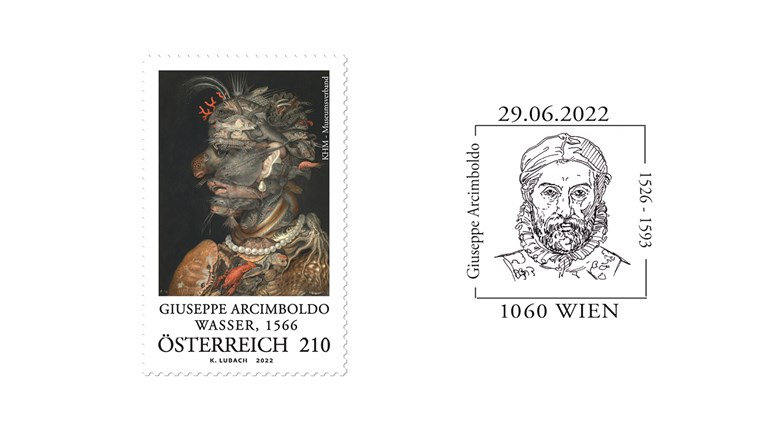 Arcimboldo is known for his unusual portraits consisting of objects that matched the subject matter. The painting "Water" is on display at Kunsthistorisches Museum in Vienna.

With his imaginative so-called composite heads, Giuseppe Arcimboldo (approximately 1526 to 1593), a Milanese late Renaissance painter, counts among the representatives of Mannerism. Depending on the subject, he painted flowers, fruit, animals, and books to create portraits of, among others, a librarian or the cycle of four seasons and the corresponding "Four elements" series.

One of these paintings is "Water" from 1566. Arcimboldo created a portrait by painting several animals that live in water, including fish, a frog, a seal, and many others. A small crown on top of the head is a reference to the Emperor as the commissioner of this work of art. Arcimboldo was a long-time court painter for the Habsburg dynasty in Vienna and Prague.
value: 2.10 Euro
first day of issue: 29.06.2022
stamp size: 25.50 x 40.00 mm
graphic design: Kirsten Lubach
printing: Joh. Enschedé Stamps B. V.
offset printing
quantity: 130,000 stamps on sheets of 50 stamps