Mariastein Pilgrimage Church near Kirchbichl-Kufstein
24.05.2023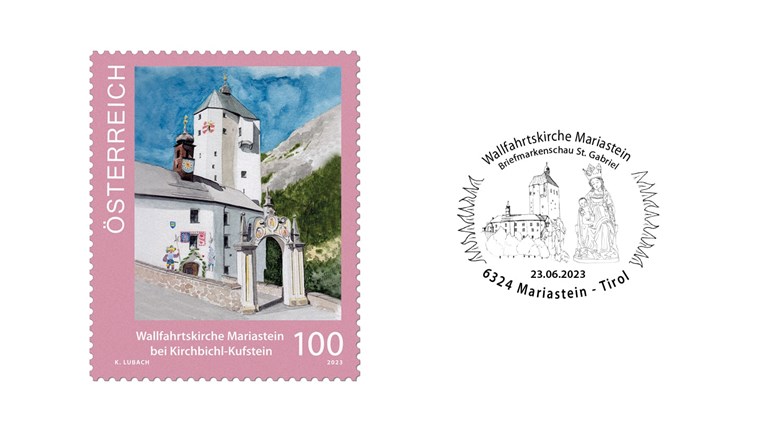 The striking tower of Mariastein Castle, one of the most important pilgrimage sites in Tyrol, rises on a mighty rock.

The 14th-century castle complex dominates the small village of Mariastein in the Lower Inn Valley. On the top floor of the 42-metre-high tower, which can only be reached by climbing about 150 steps, is the originally Gothic Chapel of Grace with a Virgin Mary made of lime wood from around 1450 and a rococo altar from the 18th century.

On the floor below, the Chapel of the Cross was set up in the 16th century for the numerous pilgrims. The former Knights' Hall of the castle now serves as the castle museum, which houses, among other things, a Tyrolean archduke's hat and a sceptre donated by Archduke Maximilian III. The Archdiocese of Salzburg has been running the pilgrimage site since the 19th century.
Value: 1.00 Euro
First day of issue: 23.06.2023
Stamp size: 33.35 x 42.00 mm
Graphic design: Kirsten Lubach
Printing: Joh. Enschedé Stamps B.V.
offset printing
Quantity: 220,000 stamps on sheets of 50 stamps