MQ Libelle – MuseumsQuartier Vienna
11.05.2022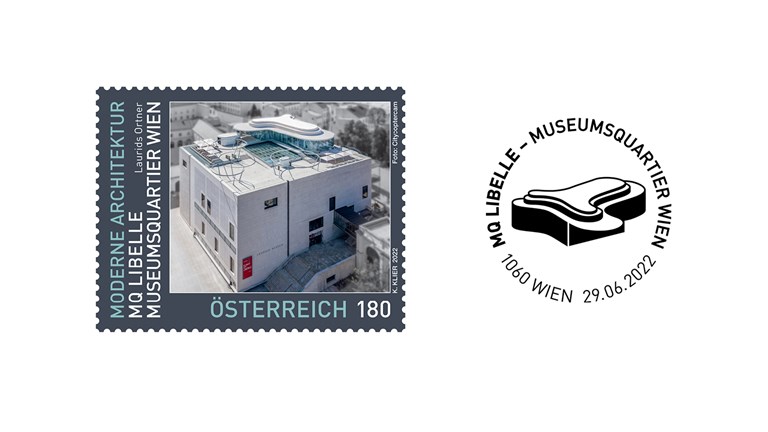 From the freely accessible MQ Libelle on the roof of Leopold Museum, visitors enjoy an impressive view of MuseumsQuartier as well as downtown Vienna.

Opened in 2020, the MQ Libelle is a work of art in its own right. It was created by Laurids Ortner, who, in the late 90s, had teamed up with Manfred Ortner for the redesign of the MuseumsQuartier area. The expansive terrace is accessible via exterior elevators located on the outside of Leopold Museum has been created as a space for artistic and cultural projects as well as events.

The glass facade was designed by Eva Schlegel. Glass "spikes" and millions of white dots make the glass appear as a light veil, which accentuates the impression of a dragonfly. The three ring-shaped light fixtures that float above the terrace on slanted pillars were created by the recently deceased artist Brigitte Kowanz.
value: 1.80 Euro
first day of issue: 29.06.2022
stamp size: 42.00 x 33.35 mm
graphic design: Karin Klier
printing: Joh. Enschedé Stamps B. V.
offset printing
quantity: 130,000 stamps on sheets of 50 stamps