Sights
24.05.2023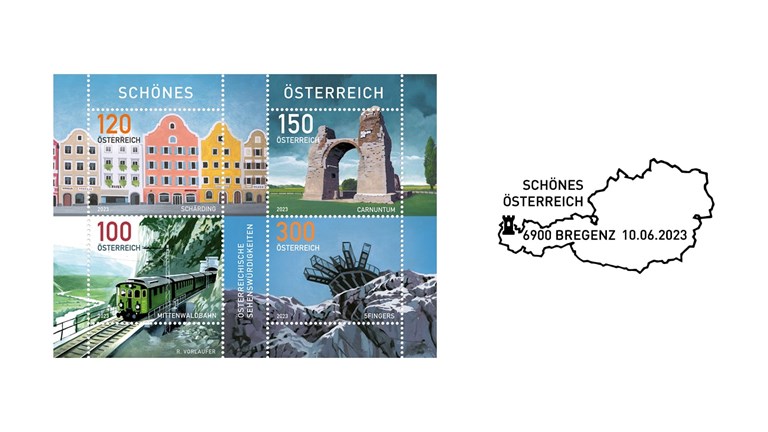 "Beautiful Austria" is the name of the series designed in the style of dispenser stamps, with the latest issue featuring four domestic sights.

The Upper Austrian town of Schärding is particularly captivating with its late baroque Silberzeile street with its colourful town houses and the medieval town gates. On the Danube Limes in Lower Austria lies Carnuntum, one of Austria's most important ancient excavation sites. The landmark of the region is Heathens' Gate, a triumphant monument from the 4th century.

The Mittenwaldbahn railway, also called the Karwendelbahn railway, opened in 1912. It runs from Innsbruck and Seefeld in Tyrol across the Austrian-Bavarian border to Mittenwald and Garmisch-Partenkirchen. Since 2006, the 5fingers viewing platform on the Krippenstein has been offering an impressive view of the Salzkammergut region and the surrounding mountains.
Value: 6.70 Euro
First day of issue: 10.06.2023
Stamp size: each 42.00 x 33.35 mm
Graphic design: Roland Vorlaufer
Printing: Joh. Enschedé Stamps B.V.
offset printing
Quantity: 120,000 stamps on blocks of 4 stamps