Butterfly – Eriogaster catax
16.02.2023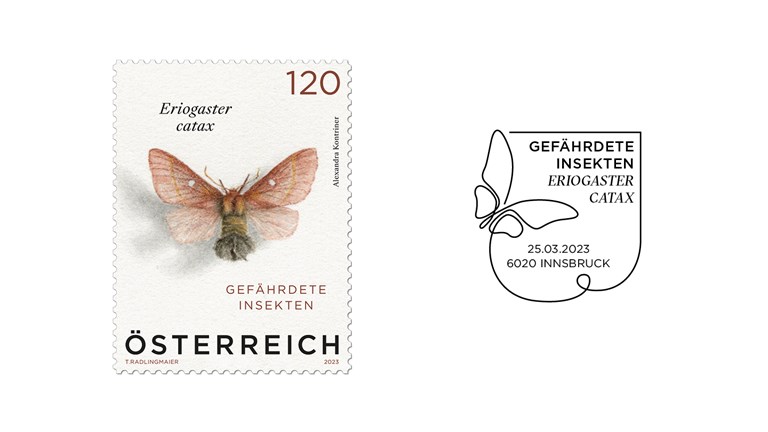 The new commemorative stamp series "Pericularium – endangered insects" addresses the topical issue of insect extinction with beautiful motifs.

The first motif in the series is the eastern eggar (Eriogaster catax). The habitat of this yellow-brown moth with the conspicuous white dot is blackthorn and hawthorn bushes, clearings, and forest edges. In Tyrol, the moth, which was once widespread in central Europe, is already extinct; isolated populations still exist in Vienna, Lower Austria, and Burgenland.

With her 2018/19 art project "Pericularium", created in collaboration with the Natural Science Collections of the Tyrolean Regional Museums, the artist Alexandra Kontriner, a native of Tyrol, wants to draw attention to the extinction of these species. For her 29 lifelike drawings in A5 format, she used pencil and watercolour to showcase insects that are considered extinct or highly endangered in Tyrol or Austria.
Value: 1.20 Euro
First day of issue: 25.03.2023
Stamp size: 30.00 x 40.00 mm
Graphic design: Theresa Radlingmaier
Printing: Cartor Security Printing
offset printing
Quantity: 340,000 stamps on miniature sheets of 10 stamps