Definitive stamps 1916/18
16.02.2023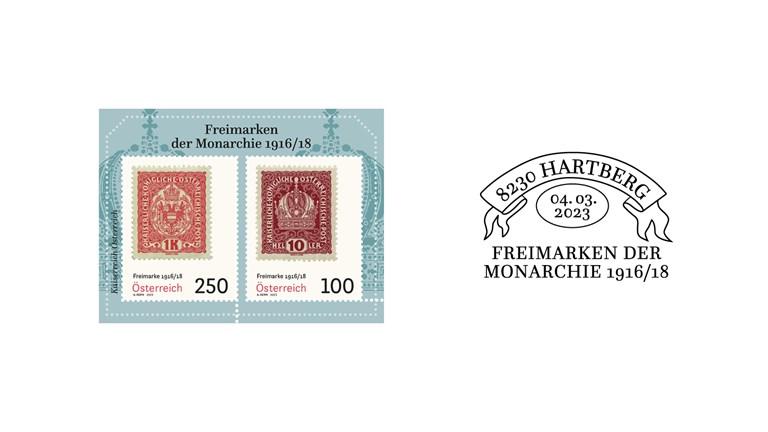 An increase in postal rates, partly due to the war, led to the issue of a new series of definitive stamps.

The design was by Rudolf Junk and the stamps were printed by letterpress. The motifs of this series featured, for the last time, a portrait of Emperor Francis Joseph in two slightly different positions (15 to 30 hellers). Other stamps show the imperial crown (3 to 12 hellers) and the national coat of arms (40 hellers to 1 korona).

These definitive stamps were issued between 28 September 1916 and 1 September 1918, depending on value, motif, and paper. The last stamp to be issued was the 1 korona stamp, which became necessary after a further increase in fees.

The stamps with the portrait of Emperor Francis Joseph were valid until 28 February 1918, the stamps worth 3, 6, 10, and 12 hellers until 15 January 1920 and the stamps worth 5 hellers and 40 hellers to 1 korona were valid until 31 October 1920.
Value: 3.50 Euro
First day of issue: 04.03.2023
Stamp size: each 32.00 x 40.00 mm
Graphic design: Anita Kern
Printing: Joh. Enschedé Stamps B.V.
offset printing
Quantity: 115,000 stamps on miniature sheets of 2 stamps