Loyalty bonus stamp 2022 – iris
16.02.2023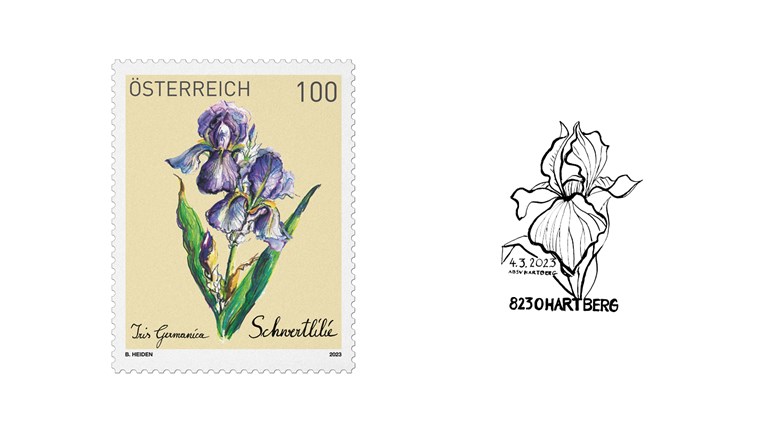 Every year, Austrian Post's loyalty bonus stamps features beautifully illustrated floral motifs. This year's motif, an iris, is no exception.

Irises owe their name to their variety of colours: iris is the Greek goddess of the rainbow. All iris species have long narrow leaves that resemble a sword.

These plants are perennials, they have no bulb but rhizomes from which they sprout again in spring. Irises are a species-rich genus that comes in a magnificent variety of colours and shapes. The outer petals of these large three-part flowers hang down.

The loyalty bonus stamp issued by Austrian Post to thank its loyal subscribers shows the German iris (Iris germanica), a hybrid species with a striking yellow "beard" at the base of the purple hanging petals.
Value: 1.00 Euro (not for sale)
First day of issue: 04.03.2023
Stamp size: 33.35 x 42.00 mm
Graphic design: Brigitte Heiden
Printing: Joh. Enschedé Stamps B.V.
offset printing
Quantity: 280,000 stamps on sheets of 50 stamps