Pope Benedict XVI.
16.02.2023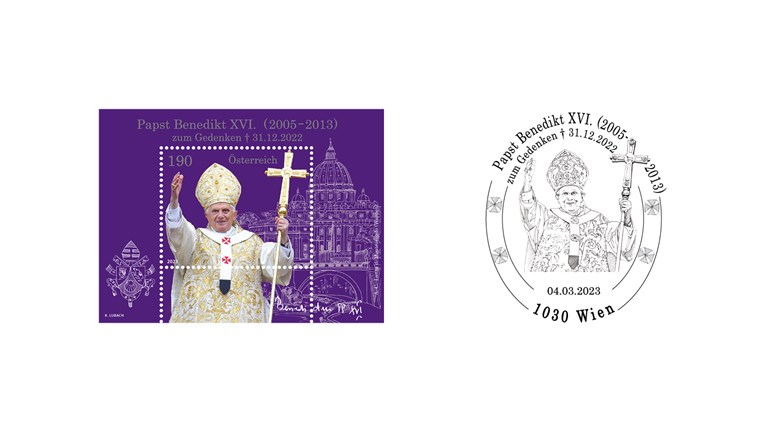 With this miniature sheet, Austrian Post commemorates Pope Emeritus Benedict XVI, who passed away last year on 31 December.

Joseph Ratzinger, who was to become Pope, was born in Bavaria in 1927. After his ordination to the priesthood in 1951, he first taught at various universities. In 1977, Pope Paul VI appointed him Bishop of Munich and Freising as well as Cardinal. Pope John Paul II eventually made him Prefect of the Congregation for the Doctrine of the Faith, and in 2002 he became Dean of the College of Cardinals. After the passing of John Paul II, he was elected the new Pope in the 2005 conclave.

His chosen name, Benedict XVI, recalls both the founder of the Benedictine Order and Pope Benedict XV, who campaigned against war as the "Pope of Peace" during World War I. Surprisingly, Pope Benedict XVI resigned from his office in 2013 for health reasons and lived in the Mater Ecclesiae monastery in the Vatican Gardens until his death.
Value: 1.90 Euro
First day of issue: 04.03.2023
Stamp size: 42.00 x 33.35 mm
Graphic design: Kirsten Lubach
Printing: Joh. Enschedé Stamps B.V.
offset printing
Quantity: 120,000 stamps on miniature sheets of 1 stamp