1908 definitive stamps: Designed by Koloman Moser
18.02.2022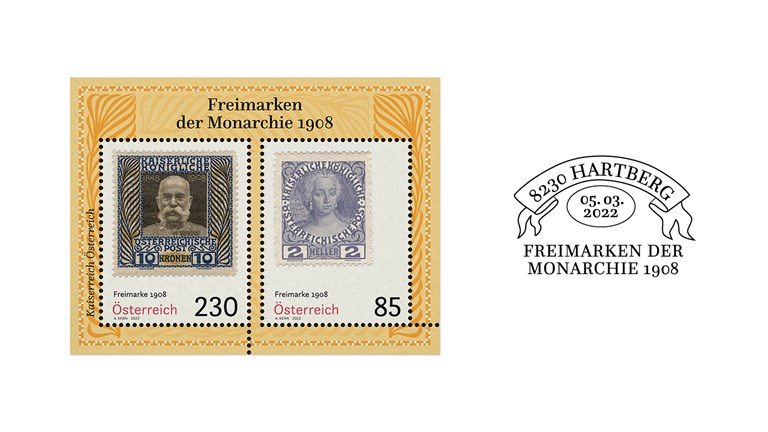 On the occasion of the 60-year anniversary of Emperor Francis Joseph I's accession to the throne, an extraordinary series of definitive stamps was issued on 1 January 1908.

What made these stamps so special was the fact that they were designed by Koloman Moser, one of the founders of the Vienna Secession and the Wiener Werkstätte artist collective.

The motifs too were a true novelty: for the first time, they included a depiction of the emperor along with portraits of earlier monarchs as well as two buildings, namely, Schönbrunn Palace and the Vienna Imperial Palace on the 2 and 5 crown stamps. The stamps for denominations of up to 35 hellers feature Francis Joseph and his predecessors Charles VI, Maria Theresa, Joseph II, Leopold II, Francis I and Ferdinand I.

The printing technique was also unusual: while the lower denomination stamps were produced in one-colour book printing or intaglio printing technique, a two-colour or multi-colour intaglio printing technique was used for the higher crown denominations. These 1908 definitive stamps were valid as postage until 31 December 1916.
Value: 3.15 Euro
First day of issue: 05.03.2022
Stamp size: 32.00 x 40.00 mm
Graphic design: Anita Kern
Printing: Joh. Enschedé Stamps B. V.
offset printing
Quantity: 115,000 stamps on sheets of 2 stamps