300-year anniversary of the Upper Belvedere
17.04.2023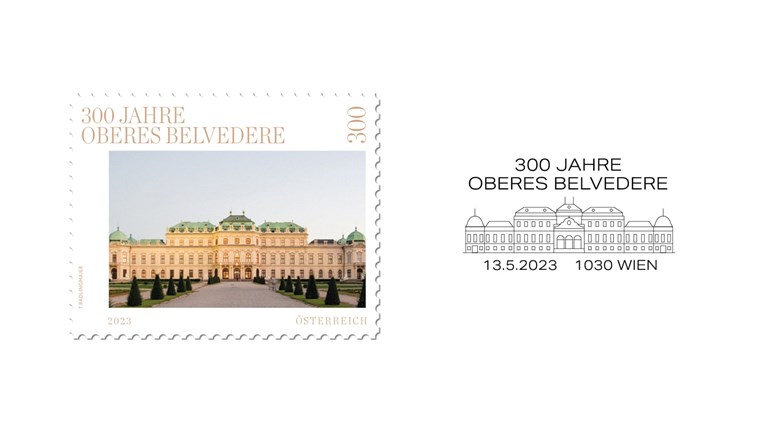 The Belvedere with its two palaces and magnificent gardens is one of the most beautiful Baroque complexes in the world. This year marks its 300th anniversary.

The Belvedere was designed by Johann Lucas von Hildebrandt as a summer residence for Prince Eugene of Savoy, the successful general and art lover. In 1723, the Upper Belvedere was completed, which the prince used for his art collections and for representative purposes.

After Prince Eugene's death, Maria Theresa acquired the entire complex and turned the Upper Belvedere into an exhibition venue for the imperial collections and one of the first public museums in the world. Today, the Belvedere not only houses important Austrian and international works of art, such as Gustav Klimt's "The Kiss", but it also has historical significance: in 1955, the Austrian State Treaty was signed in the Marble Hall of the Upper Belvedere and the document was presented to the people from the balcony by Foreign Minister Leopold Figl.
Value: 3.00 Euro
First day of issue: 13.05.2023
Stamp size: 42.00 x 33.88 mm
Graphic design: Theresa Radlingmaier
Printing: Cartor Security Printing
offset printing
Quantity: 180,000 stamps on sheets of 50 stamps