900th birthday of Frederick I Barbarossa: The Staufer Emperor
20.04.2022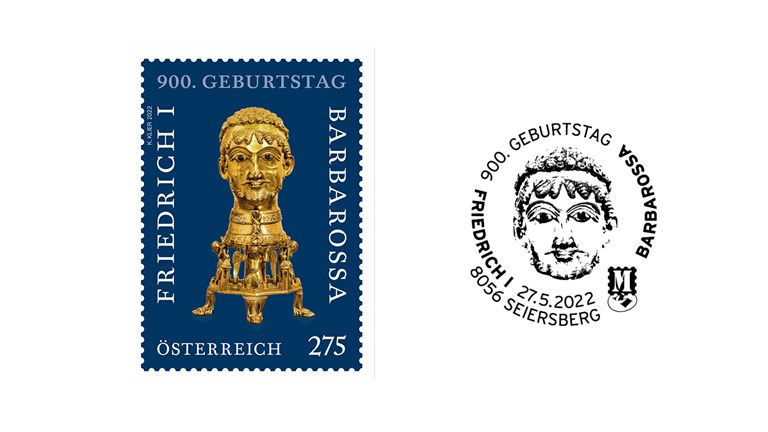 Emperor Frederick I of the Staufer dynasty was one of the most powerful monarchs of the Middle Ages. He owes his nickname Barbarossa to his red beard.

Frederick I was Holy Roman Emperor from 1155 until his death in 1190. His long reign was marked by conflicts with Italian cities, with the Pope, with princes of his Empire and especially with Henry the Lion, his cousin from the Welf dynasty. The Cappenberger Barbarossa head featured on this stamp is a bronze sculpture from the 12th century that Frederick I gave to his godfather, the parish priest of Cappenberg Monastery.

Barbarossa's mysterious death – he drowned in the Saleph River during a crusade in present-day Turkey – made him the subject of legends. According to the Kyffhäuser legend, he is not really dead but asleep in the Kyffhäuser mountains, waiting to wake up one day to unite Germany. Until then, his beard keeps growing around a marble table.
Value: 2.75 Euro
First day of issue: 27.05.2022
Stamp size: 31.90 x 45.00 mm
Graphic design: Karin Klier
Printing: Joh. Enschedé Stamps B. V
offset printing
Quantity: 240,000 stamps on sheets of 50 stamps