EUROPA 2022 – the Waterman from Eisenerz: A legend
20.04.2022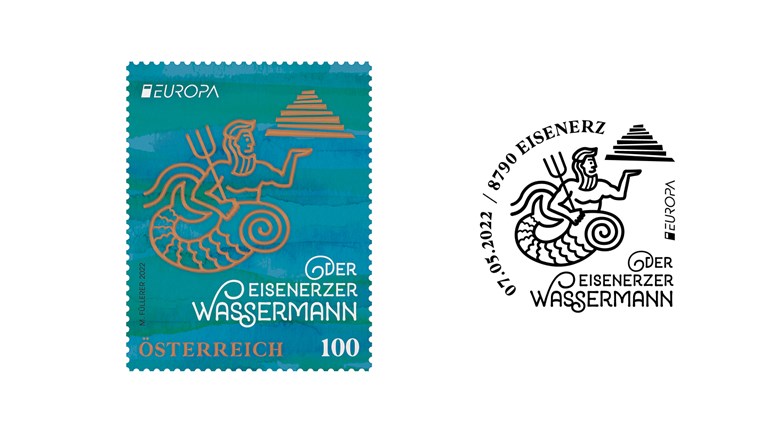 The theme for this year's EUROPA stamp is "Stories and myths", which is a good fit for the legend about the Waterman from Eisenerz.

Legend has it that people captured a Waterman who lived at Leopoldsteiner Lake near the present-day city of Eisenerz. The Waterman was rumoured to have tremendous treasures. In exchange for his liberty, the prisoner promised "gold for ten years, silver for a hundred years, or iron ore forever." People from Eisenerz (Iron Ore) chose iron, and since back then iron ore has been mined on Erzberg Mountain. The typical layers on the mountain are testimony to open-pit iron ore mining. The karst spring into which the Waterman is supposed to have disappeared is called Waterman Hole or the Black Puddle.

European postal services have been releasing EUROPA stamps since 1956. Their goal is to promote philately and emphasise the many cultural and historic similarities European among countries.
Value: 1.00 Euro
First day of issue: 07.05.2022
Stamp size: 32.50 x 40.00 mm
Graphic design: Marion Füllerer
Printing: Joh. Enschedé Stamps B. V.
offset + hot foil printing
Quantity: 200,000 stamps on sheets of 50 stamps