Save money with self-designed postcards and greeting cards
15.04.2022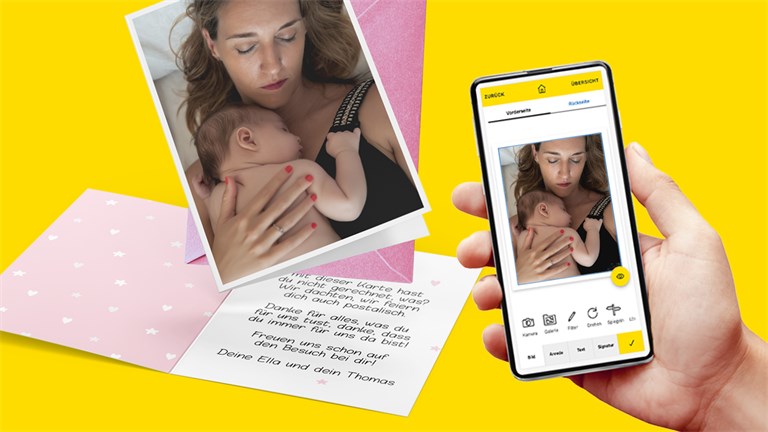 A beautiful card can be the easiest and most thoughtful way of saying thank you to somebody we care about. Sometimes, it can be difficult to find just the right card. Your best choice is always to go personal: design your very own postcard or greeting card for Mother's Day. All you have to do is go to our Österreichische Post Kartenstudio app or to post.at/kartenstudio to use your own images and texts and your card will be on its way in just a few clicks of the mouse. Österreichische Post will take care of printing and shipping.

Use the coupon code MUTTI2022 to get 50% off your order1)! The price per personalised postcard will be EUR 0.99 and EUR 1.74 per greeting card.

Another lovely idea: personalised stamps

Use our MEINE MARKE personalised stamps to add a very special touch to your Mother's Day Mail: create your own stamp. This makes receiving mail for Mother's Day a very special experience before even opening the letter.

Whether it's a picture of yourself with your mom, a beautiful image, or a funny saying: your personalised stamp will certainly attract attention.

With the coupon code MUTTERTAG22, 20 personalised MEINE MARKE 48 stamps are just EUR 38 instead of EUR 48.2)

Just follow these easy steps:
Go to post.at/meinemarke on your PC or laptop and select MEINE MARKE 48
Upload your image and design stamps
In the shopping card, enter the code MUTTERTAG222)
Order and spread joy!
By the way: personalised stamps also look great on invitations to anniversaries, christenings, weddings, etc.

1) Coupon for 50% off an order in the Österreichische Post KartenStudio, valid until 15 May 2022. Can be redeemed once per person.
2) Coupon for our product MEINE MARKE48, valid until 31 May 2022. Can be redeemed once per person. No cash payouts.