150th birthday of Alexander Roda Roda: A genius comedian
17.03.2022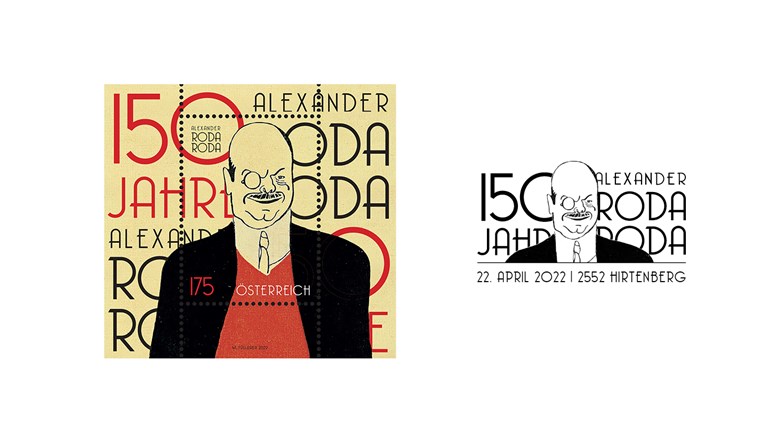 In the texts of the Austrian satirist and comedian, quirky personalities from the Habsburg monarchy and the imperial and royal army took centre stage.

As a former army officer, Roda Roda knew what he wrote about. After all, it was mostly because of his humorous stories that he was stripped of his officer rank. This prompted him to have his uniform tailored into a red vest. Together with his monocle, this jacket was his trademark whenever he appeared in comedy clubs. Both are featured on the caricature by Albert Weisgerber depicted on this miniature sheet.

Born under the name of Sándor Friedrich Rosenfeld in Moravia in 1872, he officially adopted the name Roda or Roda Roda in 1906. Roda Roda wrote plays, humorous stories, and novels and worked as a war correspondent during World War I. He left Austria before the annexation of Austria into Nazi Germany and died in the USA in 1945.
Value: 1.75 Euro
First day of issue: 22.04.2022
Stamp size: 31.50 x 43.00 mm
Graphic design: Marion Füllerer
Printing: Joh. Enschedé Stamps B. V.
offset printing
Quantity: 120,000 stamps on sheets of 1 stamp