Arrival of the mail coach: A motif of times past
21.12.2021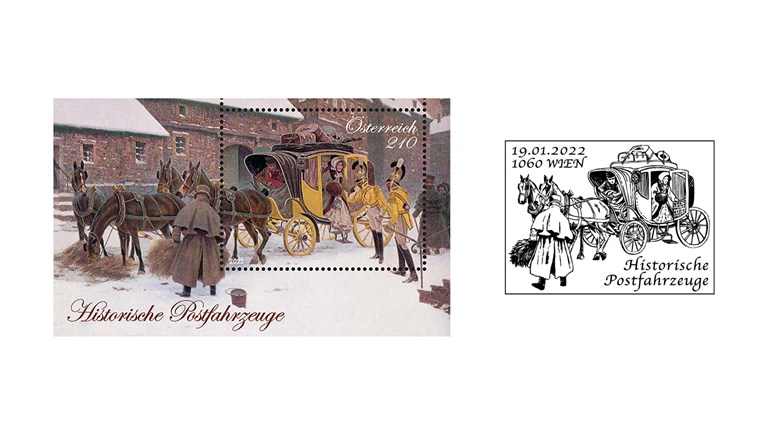 In times past, travelling wasn't a very pleasant undertaking, but rather a tough experience, even though many images such as this postcard motif do not reflect this reality.

Passengers were crammed into narrow and uncomfortable coaches, which were always unheated, roads were unpaved and bumpy, and trips took a very long time. Today, this is hard to picture. Accidents and damages to the vehicles occurred frequently, and another difficulty were weather-related problems such as roads soaked by rain or snow, making the ride even more difficult. Especially in the winter, everybody welcomed a break to get warm and stretch their legs. The coachman and the horses also got a well-deserved break at the resting stations.

This miniature sheet depicts a scene in a snow-covered street. A lady is getting off the mail coach, while the bundled-up coachman waits on the coach bench and the horses are fed with hay.
Value: 2.10 Euro
First day of issue: 19.01.2022
Stamp size: 51.00 x 40.00 mm
Graphic design: Regina Simon
Printing: Joh. Enschedé Stamps B. V.
offset printing
Quantity: 130,000 stamps on sheets of 1 stamp