Mercury: 1851-2022
27.06.2022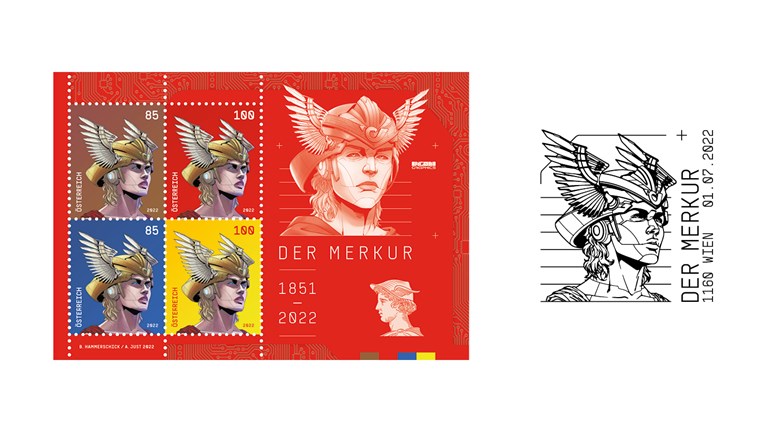 Mercurius, Mercury, Hermes: the god of trade and messenger. His portrait graces the first newspaper stamps and even in 2022 his symbolic power for philately and postal services remains intact.

The famous "Mercures" issued from 1851 to 1856 served as inspiration for the innovative philatelic reinterpretation of the ancient messenger of the gods. In line with this meaning, the world's first newspaper stamps served exclusively to pay for newspaper shipping. 2022 marks yet another milestone with this miniature sheet.

The sheet was designed by crypto artist ARI PRATAMA and the publisher ENCODE Graphics. Founded in 2021 by Austrian crypto artist PR1MAL CYPHER, it is the first book and art publisher to combine the digital world of NFTs (Non Fungible Tokens) and the crypto scene with physical comics. The results of this connection, also coveted for their digital uniqueness, are called "phygitals".

With the new Crypto stamp Art, world-famous crypto artists will be integrated into the world of philately in the near future. For collectors, this will create attractive opportunities to find and appreciate their treasures in both worlds.
Value: 3.70 Euro
First day of issue: 01.07.2022
Stamp size: each 30.00 x 36.00 mm
Graphic design: Design: PR1MAL CYPHER & ARI PRATAMA (ENCODE Graphics);
Graphical implementation: Benjamin Hammerschick & Axel Just
Printing: Joh. Enschedé Stamps B. V.
offset printing
Quantity: 150,000 stamps on sheets of 4 stamps